Schenectady Pipe Band, Centennial Celebration review.
---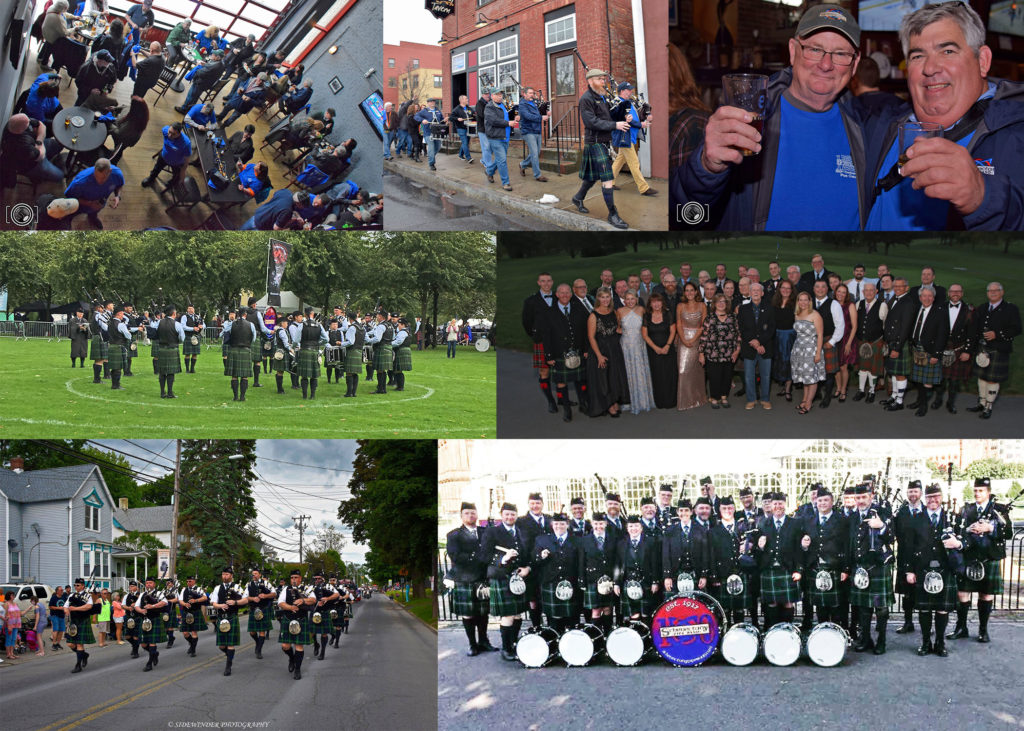 ---
When we started planning for our Centennial Year, about 18 months ago, I remembered a remark made by Mark Dubois. He said that all the bands that celebrate these kind of milestone always leave a lot on the table that don't get accomplished. As the Centennial Chair, I was determined that that would not happen. We set a goal of raising $50,000 to support the Band as we begin our second century, and I am proud to report that we have exceeded that goal, thanks in large part to all 75 individuals who donated to the Centennial Fund. Gifts ranged from $5 to $10,000, and I'd like to thank each and every one of you for your generosity. Special recognition needs to be given to a few people who were key to this success. The first person to give was Pat Burke, whose Centennial Supporter Level gift gave us a huge starting point. Then John & Jeanette Sassatelli got us enrolled in GE's Matching Gift program, which has so far resulted in $7500 in matching gifts. As John says, it's the gift that keeps on giving. Next I'd like to thank the members of the Schenectady St Andrews Society. Their individual contributions totaled over $3000. And last but certainly not least, Donna & David Dardaris' generous gift, including the GE match, of $10,000 put us over the top!
We started out with the Centennial Kick-off at the Celtic Hall last October. That event was organized by the SPB Association, led by Association President Donna Dardaris. Thanks also to Kevin Roe for allowing us to use the Celtic Hall with North Sea Gas that night.
Then we had the Sounds of a Century concert at Proctors, which we were proud to again partner with the Schenectady St Andrews Society.
Following the concert was the Centennial Pub Crawl in downtown Schenectady and it was a blast, led by Bill Schmitt.
Then, of course it was on to Scotland to compete in the World Pipe Band Championship. We didn't win, but the trip was a total success. Thanks to Betty Schenck and her committee, we had wonderful trips to the Edinburgh Tattoo, Glencoe and the Famous Grouse Distillery, and a memorable farewell party at the Birds & Bees Patio.
Getting back from Scotland, we were all about celebrating our 40th year of presenting The CDSG, led by our Games Chairman for the past 17 years, Pete Plourde.  Saturday was one of the Best in many years.   And this weekend is the finale for the Centennial. Yesterday Bob Barnes organized the first SPB Golf Day at Western Turnpike with 44 golfers in attendance.
And I can't imagine a better way to end the year than at the wonderful Gala with all the beautiful dresses, colorful table decorations, former band members and the music of the Brigadoons. Thanks to Donna Bartlett and her committee for organizing this spectacular event.
And one last person to thank is Matt Kelly. He was able to wrap all this up in expertly designed materials, posters, signs, drumheads, videos & pictures to make it look as though we all knew what we were doing!
Looking to our second 100 years, we have much going for future success. The Centennial Fund-raising effort allowed the band to invest in improvements in uniforms, drums, piping supplies and tuition to the tune of $23,500. We have funds remaining that we will continue to invest in the "infrastructure" of sound and spectacle that is the signature of the Schenectady Pipe Band. (by the way, if you haven't sent in a donation or want to donate again, it's not too late!).
Also, the Capital District Scottish Games continues to be an Important factor in SPB's future success. The Games are a great recruitment tool, and connect us to the Community in many beneficial ways.
Finally, the constitution and by-laws of the SPB is quite unique in the Pipe Band world. We are a member driven organization, led by an elected Board of Officers and Representatives. Decisions on budgets, uniform components, musical selections and musical leadership are all decided on by the membership, allowing for each member to be a part of a dynamic not for profit entity.
Yes…the future looks bright!
Bill Munro Sr.
Centennial Committee Chair