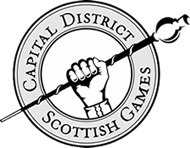 This coming Saturday and Sunday, Aug. 30th & 31st, is the 37th Annual Capital District Scottish Games held at the Altamont Fairgrounds in Altamont, NY. The Schenectady Pipe Band has hosted the games for all 37 years since re-establishing them in 1978. Over those years the band, games committee and volunteers have made the CDSG into one of the largest scottish/Highland games in the Northeast U.S. drawing over 40 pipe bands and 15,000 spectators. Fun for the whole family with children 12 years of age and younger free.
For more information on the games or ticket information click on the links below.
Information
Tickets and ticket information
Hope to see you at the games!
Saturday:
Opening ceremonies & massed bands starts at 11:30am
Closing ceremonies & massed bands starts at 6:00pm
Sunday:
Opening ceremonies & massed bands start at 12:30pm
Closing ceremonies & massed bands start at 6:00pm